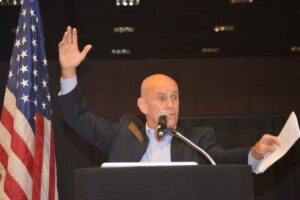 2022-2023 CIC Chairman
Frank Terlep
Frank started his automotive career at Southern Illinois University's Auto Technology and Management school in 1977. That was the same year Frank started his Rugby career where he had the opportunity to play all over the world for the next 25 years. During the late 70's and early 80's Frank worked in the automotive industry as a brake and alignment technician, service advisor, service manager and a diagnostic equipment salesman.
In 1982 Frank bought his first computer, an Apple iie and two years later, he launched his first technology business with a $100,000 investment from an angel investor where Frank developed one of the first software applications for the automotive aftermarket industry. Since then, Frank launched two successful startups, helped design, develop and launch the collision industry's first Windows based estimating and management system, the first online parts procurement platform, the first telematics mobile app and digital marketing platform as well as the industry's leading remote scanning and calibration software platform.
Frank is the former Chairman of CIECA (Collision Industry Electronic Commerce Association), is presently the Co-Chair of CIC's Future Disruptions Committee and CIECA's Emerging Technologies committee, a 2022 inductee to the Collision Industry's Hall of Eagles, the industry's Hall of Fame and the incoming chairman of the (CIC) Collision Industry Conference for 2023!
Frank presently is the CEO of Auto Techcelerators, LLC, a company dedicated to helping the Automotive, Collision, Glass, Insurance and Truck Industries Properly Estimate, Calibrate and Validate ADAS Systems, Repairs and Calibrations.